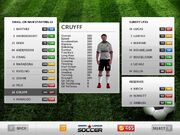 Johann Cruyff is one of the players on Dream League Soccer, and is part of the Netherlands team. Cruyff plays at the forward position, being a SST (Supporting Striker). He starts as a 94-rated player, but when stats are fully developed, he can become 100-rated and is the best player ever.
You can upgrade all of Johann Cruyff's stats to 100, except tackling which maxes out at 96. Though his acceleration is 100, a few players are still faster. Cruyff is one of the few players that can reach 100 overall in Dream League Soccer.
Cruyff's price ranges from 500 Coins - 800 Coins, some arguing that he should be priced more than Pèle, although both are quite similar stat wise.