Rivelino is a Brazilian Attacking Left Midfielder (AML) that plays for the Team Brazil 1970. He can be Developed to an overall stat of 100, along with having all stats on 100 except for goalkeeping.
Rivelino is one of the only players that can achieve having 100 on every stat except for Goalkeeping Stats. However, he has a preferred foot (L) and therefore isn't a completely perfect player.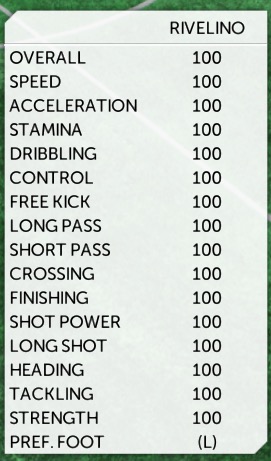 Rivelino is a
Perfect Player
and a
Classic Player
.
Ad blocker interference detected!
Wikia is a free-to-use site that makes money from advertising. We have a modified experience for viewers using ad blockers

Wikia is not accessible if you've made further modifications. Remove the custom ad blocker rule(s) and the page will load as expected.